Int'l Women's Day: Don't rush into marriage, Gender Ministry advises women
Posted on
Prime News Ghana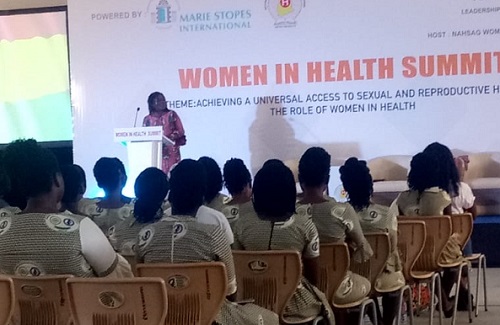 The Gender Ministry of Ghana on International Women's Day has advised women not rushed into marriage.

Celebrating this year's International Women's Day with the National Association of Health Students Association, an event organised by the Women's Commissioner of the Association, Gladys Rockson, at School of Biomedical and Allied Health Sciences Exam Hall. Korle-Bu under the theme "Achieving a Universal Access to Sexual and Reproductive Health; The role of women in Health", a representative from the Ministry of Gender, Florence Ayisi Quartey said most ladies rush into marriages at a tender age which does not help them achieve their potentials.

According to her, marriage comes with planning and their inability to plan hinders them from becoming the woman they wished to be.


Speaking on reproductive health, she said there is a need for women to take keen interest in how they educate themselves on the various health issues related to them.

She added that men are not left out of the discourse because how inform men are, greatly determine the extent of success in this reproductive health agenda.
Florence Ayisi Quartey also debunked claims that women are their own enemies, she said during her career most of the challenges she faces are things done by men to bring her down.

She encourage women to  work hard to achieve their potentials as most of the population of the country is made of women.

Read also: Int'l Women's day: Strive for the future of your children, don't depend on men - Ghanaian women
Ghana News: Latest news in Ghana
Source: primenewsghana.com