I never wanted to be an Imam- National Chief Imam
Posted on
Prime News Ghana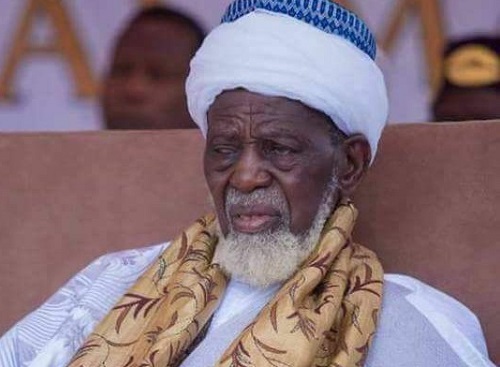 The National Chief Imam Sheikh Dr. Osman Nuhu Sharubutu who turns 100 today April 23, 2019, has revealed that he never wanted to be an Imam.
Sheikh Dr. Osman Nuhu Sharubutu's office as National Chief Imam gained presidential approval backed by Government policy in 1992.
In an interview with Joy FM, he disclosed that his father even advised him not to take up the role of an Imam and all he wanted to do was to be an Islamic teacher.
"I did not want to be an Imam, simply because all I wanted to do was to teach as my father did and I felt that taking up the Imamship will somewhat hinder my work"

"My father also advised me not take up Imamship for the same reason, but once Allah has ordained there was nothing I could have done when I was chosen to lead the Muslim community in Ghana".

"I grew up in a family of scholars, my father was a Mallam who taught a good number of Muslims in the country, I was sent to Kumasi to go and learn from Mallam Awudu Dantano, after two years with him I started seeing revelations and signs of what Allah had for me".

" I realized Allah had a special plan for me, I was divinely inspired to follow the ways of Allah, I also saw signs of protection in the sense that not even bed bugs stung me, even when others are stung on the same bed," he added.
The Chief Imam last Sunday was at the Christ the King Catholic Church to worship with them as part of his 100th birthday celebration.
He is expected to hold a lecture today April 23, 2019, at the Mövenpick Ambassador Hotel Accra.
Ghana News: Latest news in Ghana
Source: primenewsghana.com