All set for Akwasidaekese to mark Otumfuo's 20th anniversary
Posted on
Prime News Ghana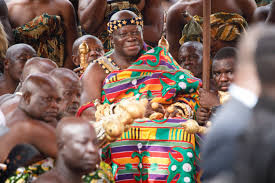 All is set for Akwasidaekese on Sunday, April 21, which marks the 20th anniversary of Asantehene, Otumfuo Osei Tutu II.
The event will be a high point of the anniversary and thousands of indigenes and well-wishers from across the world, are expected to be at the Manhyia Palace to witness the spectacle.
President Akufo-Addo and other top dignitaries are all expected to grace the occasion.
The programme is expected to begin at 12: pm but chiefs attending the ceremony will sit before the celebrant, Otumfuo Osei Tutu, arrives.
The King, in all his royalty and elegance, will ride in a palanquin from the Palace to Dwabrem amidst the firing of muskets

Opportunity will be given to the chiefs and invited guests to pay homage to the Asantehene who will sit in state.

The Asantehemaa, Nana Konadu Yiadom III, will also ride in palanquin.

The rich Ashanti culture will be on display by various dance groups.
Otumfuo Osei Tutu will deliver his anniversary speech, while the Special Invited Guest, who will be coming from outside Ghana, and the Guest of Honour will also give speeches.
Otumfuo Osei Tutu ascended to the Golden Stool on April 26, 1999.

On that momentous day, Barima Kwaku Dua, as he was then called, held in his right hand the Busumuru sword, and with his kuntunkuni ( black cloth) dropped to his chest, swore the oath of Asante to be faithful to his people.
Akwasidae

According to the Asante calendar, the Akwasidae is celebrated nine times in a 40-day interval in a year.

However, the Akwasidaekese is marked every five years per the calendar.
Ghana News: Latest news in Ghana
Source: primenewsghana.com