Prez. Akufo-Addo condemns terror attack in New Zealand
Posted on
Prime News Ghana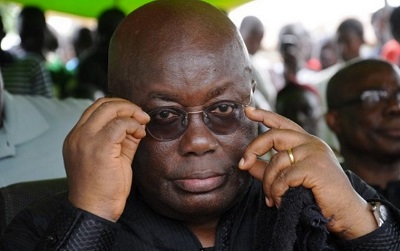 President Akufo-Addo has joined a list of personalities around the world to sympathise with the people of New Zealand following an attack in Christchurch which left at least 49 people dead.

He has condemned the attack and said this is a reminder of the dangers terrorism poses to the world.

He took to his Twitter handle and wrote: "I join the rest of the world in condemning the terror attack in New Zealand, and sympathize with the families of the dead and wounded, and with the government of PM @jacindaardern," Akufo-Addo tweeted.
"The attack is a stark reminder of the threat terrorism poses to all the peoples of the world. We must stand up together against all atrocities that are motivated by a twisted understanding of religion or ideology".


Attack
A heavily armed gunman clad in military-style gear opened fire during prayers at a mosque in the center of Christchurch on Friday. A second mosque was also targeted in what Prime Minister Jacinda Ardern called a well-planned "terrorist attack," making for "one of New Zealand's darkest days."

Portions of the ghastly attack were broadcast live on social media by a man who police confirmed had also released a manifesto railing against Muslims and immigrants. The 74-page document states that he was following the example of notorious right-wing extremists, including Dylann Roof, who murdered nine black churchgoers in Charleston, S.C., in 2015.

Authorities said initially they had four people in custody but later revised that number to three. One man in his late 20s, whom the authorities declined to name, was charged with murder and was expected to appear in court on Saturday morning. It was not clear how the other two people were connected. None of them had not been on security watch lists, officials said.

Police also deactivated an improvised explosive device, and were working to disarm a second, that had been attached to a vehicle used by the suspects. Two homes were evacuated around a "location of interest," in Dunedin, about 220 miles to the south of Christchurch, according to the Associated Press. Counterterrorism forces were activated across New Zealand and Australia, as New Zealand elevated its national security threat level to "high" for the first time.

New Zealand Police Commissioner Mike Bush said 41 people were killed at Al Noor Mosque on Deans Road, opposite a large downtown park. Seven more were fatally shot about three miles away at a mosque in Linwood, an inner suburb of Christchurch, and another person died at the hospital.

Health officials said 48 patients, including both young children and adults, were being treated for gunshot wounds at Christchurch Hospital, while additional victims were seeking medical treatment elsewhere. Around 200 family members were at the hospital awaiting news about loved ones.
Ghana News: Latest news in Ghana
Source: primenewsghana.com