Nigeria widow testifies against Shell
Posted on
MyJoyOnline
The widow of a Nigerian activist suing oil giant Shell over the execution of her husband says his death left her "traumatised" and "poverty-stricken".
Esther Kiobel is testifying in court in The Hague, demanding compensation from the Netherlands-based firm.
She is among four women who accuse Shell of being complicit in the hanging of their husbands by Nigeria's military in 1995. Shell denies the allegation.
The activists led mass protests against oil pollution in Nigeria's Ogoniland.
Representatives of Shell looked on. At one point, the phone of one them rang as the widows wiped their eyes, prompting judges to remind everyone to keep their devices on silent, our reporter says.
What else has Mrs Kiobel said?
In a written statement, she said she had lost a "wonderful husband" and a "best friend".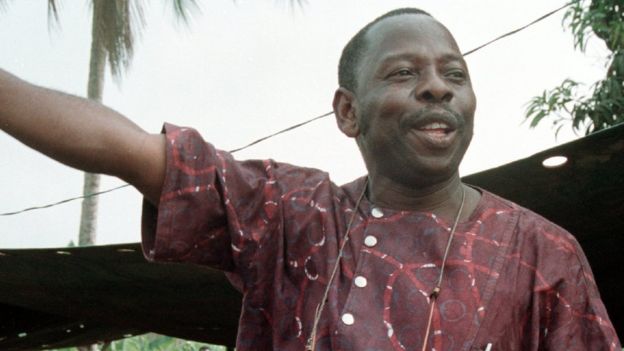 What is Shell's response?
In a statement, the firm said the executions were "tragic events which shocked us deeply".
The statement added: "The Shell Group, alongside other organisations and individuals, appealed for clemency to the military government in power in Nigeria at that time. To our deep regret, those appeals went unheard.
"We have always denied, in the strongest possible terms, the allegations made in this tragic case. SPDC [the Shell Petroleum Development Company] did not collude with the authorities to suppress community unrest, it in no way encouraged or advocated any act of violence in Nigeria, and it had no role in the arrest, trial and execution of these men.
"We believe that the evidence clearly shows that Shell was not responsible for these distressing events."
Why were the activists hanged?
Saro-Wiwa and the eight other activists were executed after a secret trial in which they were convicted of murdering four Ogoni traditional leaders.
They denied the charge, and said they were framed.
Then-UK Prime Minister John Major described the trial as "a fraudulent", and said it had led to "judicial murder".
At his trial, Saro-Wiwa said the case was designed to prevent the Ogoni people from fighting against oil pollution which had devastated the region's environment and had caused poverty and disease.
Saro-Wiwa had co-founded the Movement for the Survival of Ogoni People (Mosop) in 1990, launching mass campaigns to win compensation for environmental damage and to demand that the region be given a fair share of oil profits.
What did the other widow say?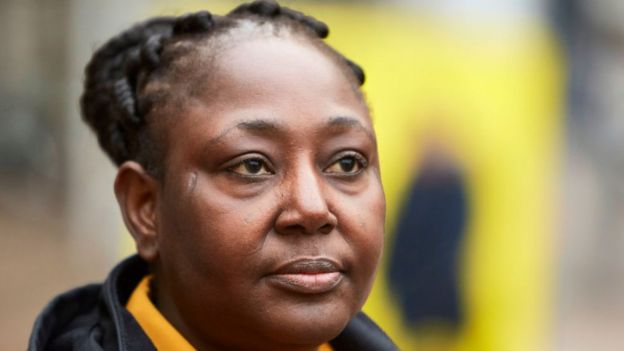 Victoria Bera says the ain has not gone away
In her statement to the court, Victoria Bera said she was pregnant with her fist child when her husband, Baribor Bera, was arrested by the military.
She said: "The detention and subsequent execution of my husband made things very difficult for the entire family, including other relatives who depended on his financial support.
"The pain I've been living in these years doesn't seem to go away, no matter what I do, especially when l look at my son, who had to grow up without a father...
"I need justice. I need justice for my people."