MTN Targets 3500 Pints Of Blood From Save A Life Campaign 2019
Posted on
ModernGhana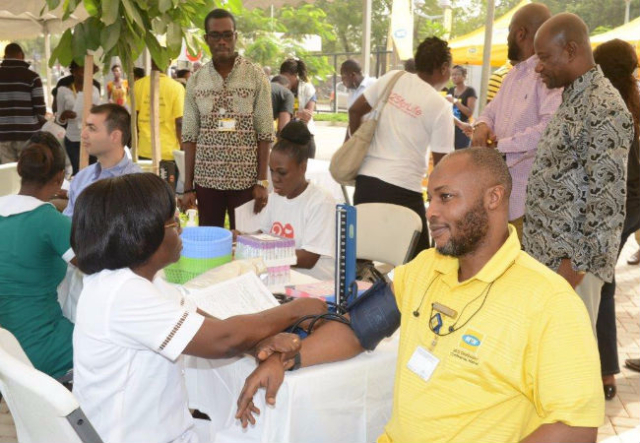 MTN Ghana Foundation is set to collect 35oo pints of blood from this year's Save a Life Campaign to augment the National Blood Bank.
MTN Ghana Foundation today announced that all is set for its annual blood donation drive dubbed "Save-a-Life campaign" to be held this year on
The exercise which will be held in 19 locations across the country is scheduled on Thursday 14th of February 2019.
The locations include Greater Accra, MTN House at Ridge near Vanguard Assurance and Graphic Road office; Ashanti, Opoku Ware School and St Louis SHS; Volta, Mawuli Sec School; Eastern, Koforidua Technical Institute; Central, Adisadel College, Cape Coast; Western, Tarkwa MTN Service Center, Fiaseman SHS Tarkwa, Market Circle Takoradi, Aseda House, Takoradi; Brong Ahafo, Sunyani Secondary School, Victoria Park Sunyani, Techiman Sec School, Mt Camel SHS, Techiman, Northern, Forecourt of Tamale Regional Library, Upper East, Bolga Girls SHS and Bolga Ramsey Park and Upper West, WA Ministries Park.
The aim of the campaign is to help stock blood banks across the country. The project is being done with the help of the Ghana Blood Service.
Robert Kuzoe, the Executive Secretary of the MTN Ghana Foundation said they are very glad to have another opportunity to show their customers and all Ghanaians that they are a caring company.
"We believe that the availability of safe blood is critical in health administration and we are happy to assist, According to the World Health Organisation, lack of access to safe blood is responsible for the deaths of hundreds of thousands of childbearing women each year," he stated.
Mr Kuzoe is appealing to members of the public to come out in their numbers to express their love on Valentine's Day by donating a pint of blood to help save lives.
Source: modernghana.com