Believing In Ghana: The Promise Of A Generation
Posted on
ModernGhana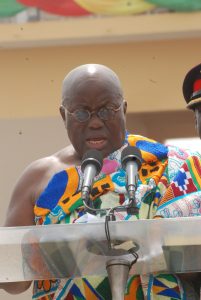 We call them the golden generation. The men and women of yesteryear whose blood and sweat gained us our independence. This generation of proud Africans who first earned the privilege to call themselves Ghanaians. A generation beaming with hope and faith in their new country. A hope so infectious that it kindled similar awakenings across Africa.
As the flowers bloom and grow, so did this generation transition. After the golden generation we have had those of wood and clay and sand. Where once sprout infectious hope, now emanates gloomy despair. Today, instead of a proud and progressive country, we appear more as a tired and downcast people. A citizenry abused by one corrupt government after another. Neglected by leaders who care nothing for the founding ideals of Ghana and betray those ideals each day.
These traitors to the name of Ghana steal something far more precious that than the billions they stow in foreign banks. They steal the hope and faith of a nation. A country is an ideal. An endeavour that requires the citizenry to believe that it is a worthy undertaking. It requires each participant to have faith in a glorious and better future. Hence, when hope and faith are stamped out of the people, nothing remains.
It is this dire situation that would lead some, tired and disillusioned, to call the land of the Black Star a failed state. Though I see the place of pain from which they speak, I do not subscribe to that notion. My hopes are kept and my belief is rekindled by a new generation willing and ready to revive the national agenda.
A generation of young Ghanaians who are eager to be worthy heirs of the promise of freedom and justice. From all walks of life, from diverse creeds and tongues arises this generation of doers. These men and women who each day strive to raise the flag of Ghana, and march forward. It is they who give me hope. A hope that this new breed of Ghanaians can show the world "that we too we are somebody."
I encourage this generation. Your work is cut out for you. It will be arduous and often unrewarding. The path might be lonely and seemingly darkened by those who would not see you succeed in this most noble endeavour. Those who wish to maintain the status quo will seek to frustrate you at every turn. Yet still keep the faith. Believe that Ghana can work. Believe that this young experiment of a people bound by sacred bonds will succeed and thrive under your stewardship.
Believe for your parents and siblings and friends whose resolve might be shaken and not yet see the possibilities of what could be.
For it is when we as a people believe, then and only then, can we build a Ghana we can be proud of. Therefore I say to you believe in yourselves, believe in Ghana.
Source: modernghana.com